Satir Intensive Training
September 9 - 13, 2019
Toronto area, Canada
2 Tickets left!



The Satir Intensive Training is a unique opportunity to learn about the Satir Growth Model from a theoretical perspective as well as through hands-on, experiential activities in an intimate setting with internationally-recognized Satir experts and trainers.
The Satir Model teaches us that self-reflection and gaining clarity about our own thought processes are crucial elements in improving our communication skills and increasing positive outcomes in any situation that involves human systems or interactions – so training involves a good deal of personal work and individualized attention and feedback from the facilitators as well as practical tools for applying the model effectively in a professional capacity.
Course fee includes tuition, materials, lunch as well as snacks and beverages throughout the five day training. An option to stay at the retreat centre is also available. The stay includes breakfast and dinners.
This training will, among others, appeal to:
Psychotherapists
Communications specialists
Agile and Change Management Coaches
Leaders
The workshop will explore all aspects of the Satir model, through all the filters from coping stances to the core being of Self.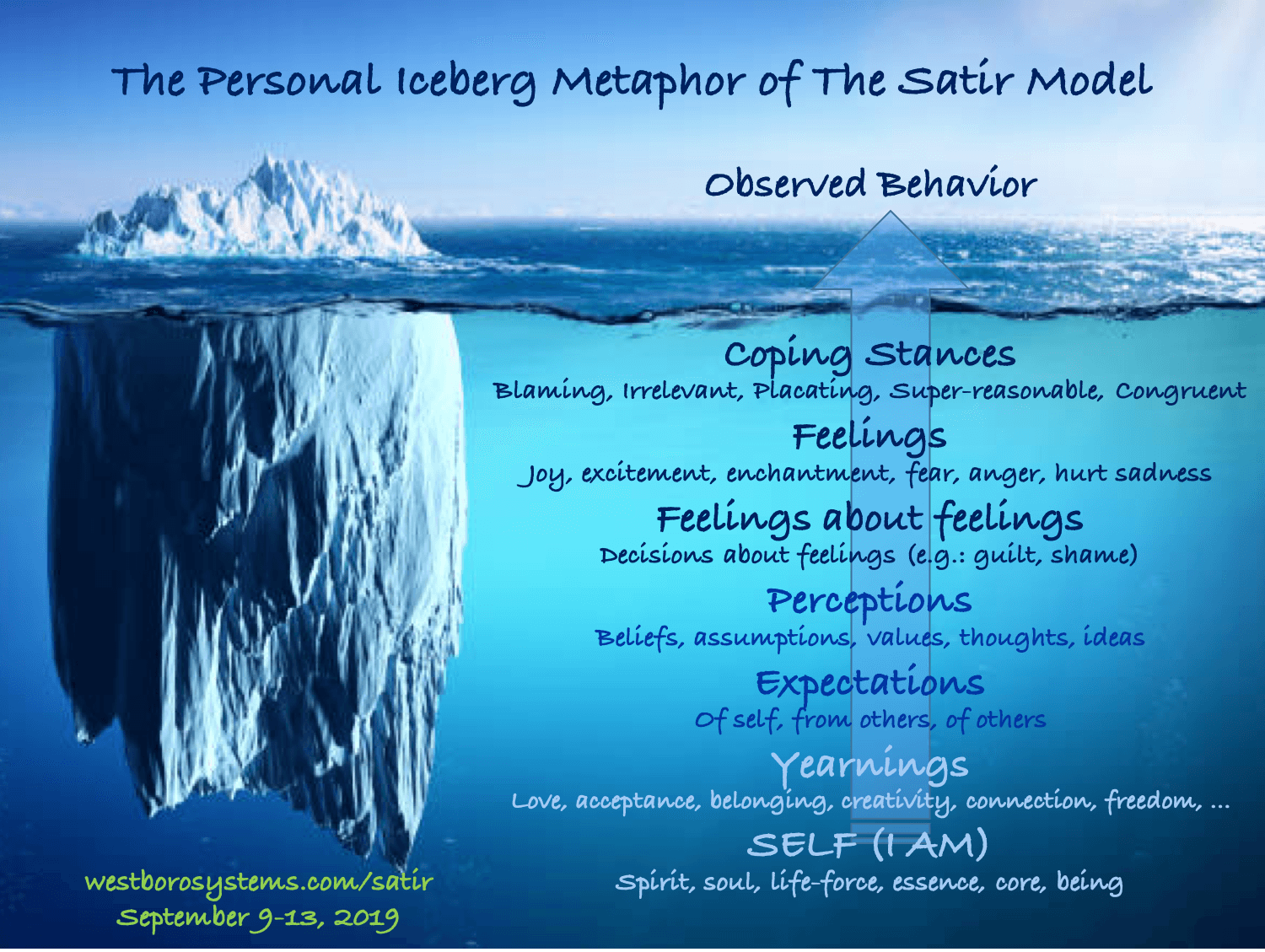 Facilitators
The Satir Intensive Training will be led by Jean McLendon and Hugh Gratz, both of whom trained directly with Virginia Satir and have spent over a decade co-facilitating Satir trainings around the world. Jean and Hugh are exceptionally gifted trainers who have years of experience applying the Satir Model as practitioners, consultants, and instructors. Their unique chemistry, genuine warmth, and ability to create a safe learning environment make the Summer Intensive a particularly enriching experience.
Jean McLendon, MSW, LCSW, LMFT, is the past president of the Virginia Satir Global Network and is currently the Director of Training Programs at Satir Systems, a professional therapy and coaching center in North Carolina. She trained with Virginia Satir for nearly 20 years and her work has been published in several journals and books. Jean has held faculty appointments at the University of North Carolina School of Social Work and the National Institute of Mental Health Staff College, and she served as the faculty specialist with the Whole Systems Design Graduate Program at Seattle University. Jean travels widely, applying the Satir Growth Model in a variety of contexts, situations, countries, and cultures as a trainer, therapist, and business consultant.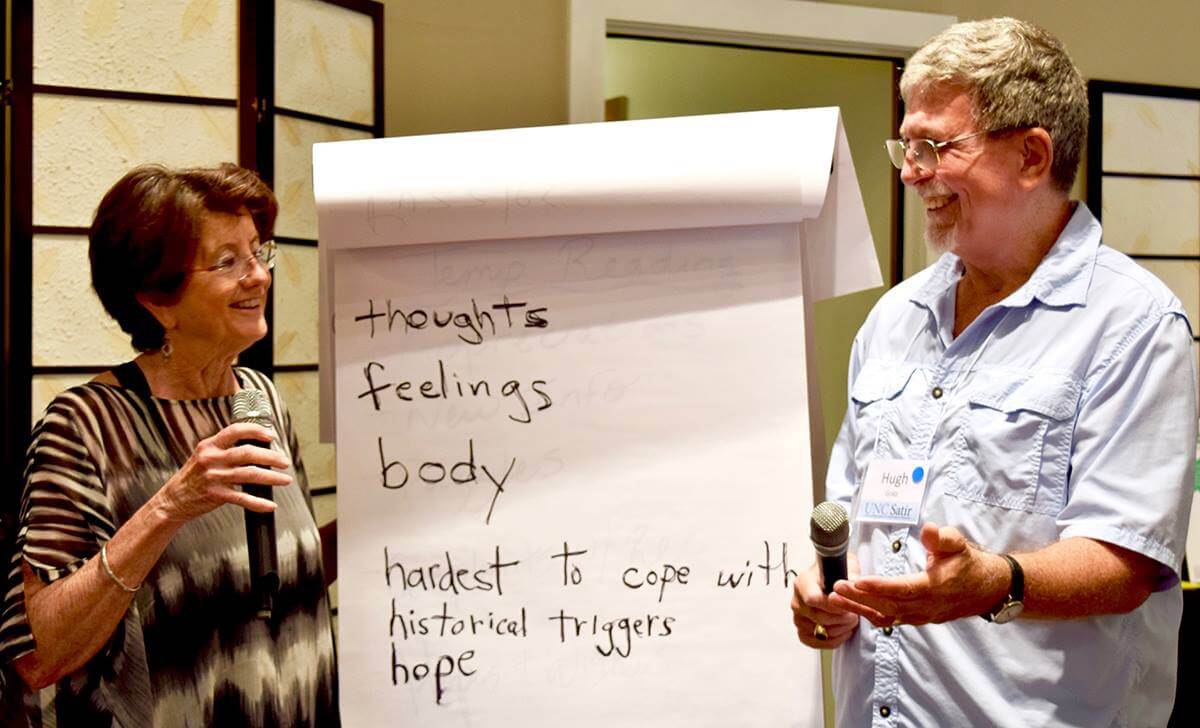 Hugh Gratz, MSW, LCSW (retired), has been a clinical social worker for over 40 years and has a wide range of practice experiences that include mental health and family services, hospice palliative care, private practice, and diversity training. He was a member of Virginia Satir's training staff for many years and is a strong proponent of the Satir Growth Model. Hugh has been awarded the Satir Organization's Living Treasure status, as well as being honored as Central New York's Social Worker of the Year and receiving the Distinguished Alumni Award from Moravian College in Bethlehem, PA. He has worked internationally with the First Nation populations in Canada and in Central America with groups affected by war, violence, and natural disasters. He is certified as a Field Traumatologist and has been deployed to Ground Zero in New York City as well as Sri Lanka, Honduras, and El Salvador.
An Interview with the Facilitators
Feedback from Previous Participants
"Jean and Hugh were masterful at teaching content, modeling content, providing interaction with processes and people in a supportive, nurturing environment where risk-taking became the norm."
"This was a very personally moving course. I discovered parts of me that I didn't know existed."
"The best out-of-pocket investment I've ever made."
"A mind-blowing once-in-a-lifetime experience that no one should miss."
More about Virginia Satir and the Training
Details and Pricing
The training will be held at Crieff Hills Retreat and Conference Centre from Monday, September 9 - 13, 2019. Crieff Hills is located at 7098 Concession 1, Puslinch, Ontario, Canada N0B 2J0, about a 45 minute drive from Toronto International Airport. Daily time schedule to be determined closer to the event. Planning on 8:30 - 5:00 would be a reasonable estimate.
Price for the training is $1999 CAD. This includes the five-day Satir Intensive Training, lunches, snacks during training, and taxes (HST).
If you wish to stay at the retreat centre, the cost is an additional $600 CAD (total for training and accomodation is $2599 CAD). The accommodation is from Sunday through Friday and includes breakfast, dinners, and taxes (HST).
Credit card fees extra.
For registration information or questions please contact Glenn Waters and/or Mike Edwards.